A friend of mine celebrated his birthday recently with a potluck barbecue by the pool, and the morning of the party I decided to bring a homemade cake. Mostly because I really have lost all originality and couldn't figure out what to bring.
Salad? Potatoes? Steaks? Those were just some options that I knew would be covered, and done well, considering the group of people we usually hang out and eat with.
Little did I know, three other people who were invited also had the same idea and brought cakes! It's okay though, J ended up with four cakes with different flavours, textures, colours...
Anyhoo, I was inspired to create this cake by
Steph
, who did a much better job at making it pretty, and used the vanilla cake recipe I did for Z's birthday a while back.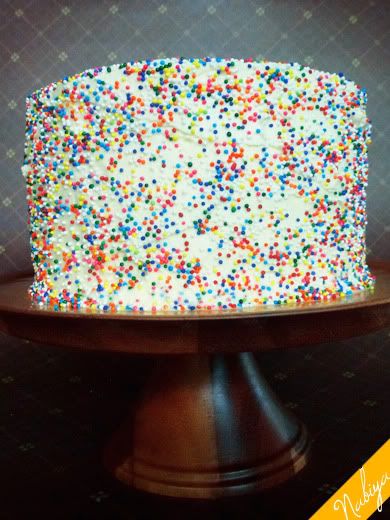 Getting the sprinkles onto the side of the cake was no easy feat, though. I made a massive mess in the kitchen, with sprinkles covering every surface... it's a good thing my mum wasn't around to see the aftermath of that. I now also understand the purpose of a tilting decorating stand. (Note: Christmas wish list)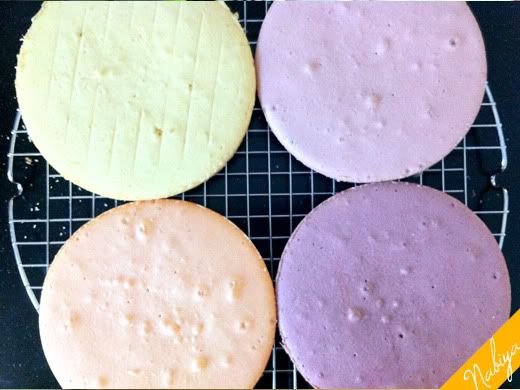 After seeing
the cake
Steph made, I wanted to get colour on this cake too, but forgot to buy some Wilton colouring... instead I used the pink and delphinium blue colouring gel, mixed them up as I went along to achieve different shades. I assume it would be easier to get the ombre effect when using one colour, so instead of changing shades, I'd just shade degrees of colour intensity...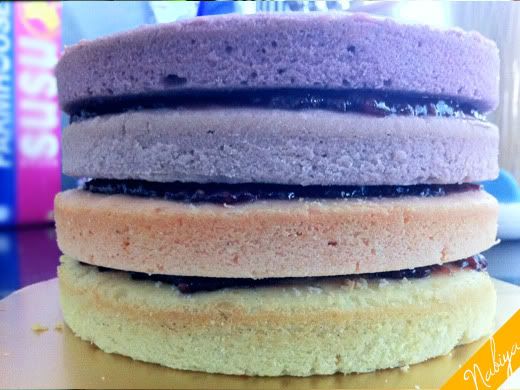 Though I have to say I got quite a kick out of seeing them all stacked up like this! Slapped a healthy amount of raspberry preserve between the layers...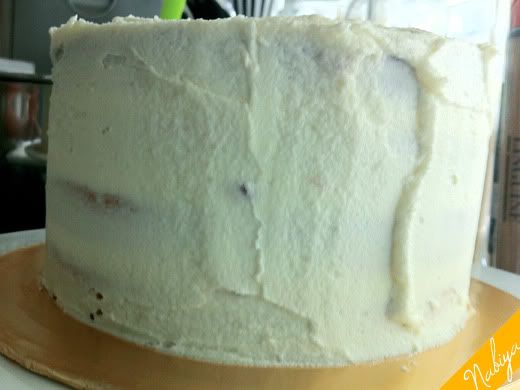 Cover with a crumb coat (just your basic buttercream) and pop it in the chiller for half an hour, time to catch up to the latest episode of How I Met Your Mother...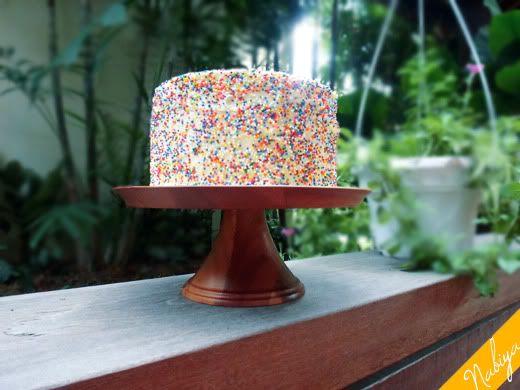 Then when it's all done, the mess it cleaned up and you've taken a breather... take your cake around the house for an outdoor photoshoot. Might as well make full use of the rare nice weather! It's been raining incessantly over the past month, and chances are will continue for the next month, so taking pictures has been a practice in disappointment... what with my lack of white lights and now limited natural light.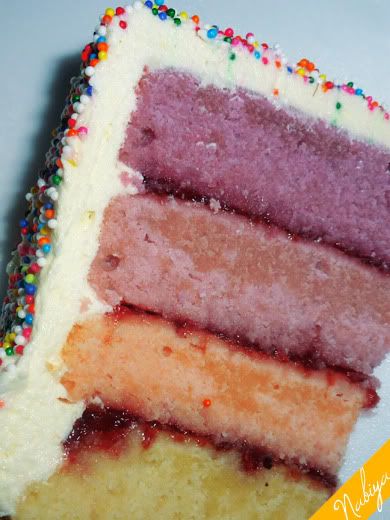 I foresee playing with colouring to be a big part of my baking in the future...
x Nabs