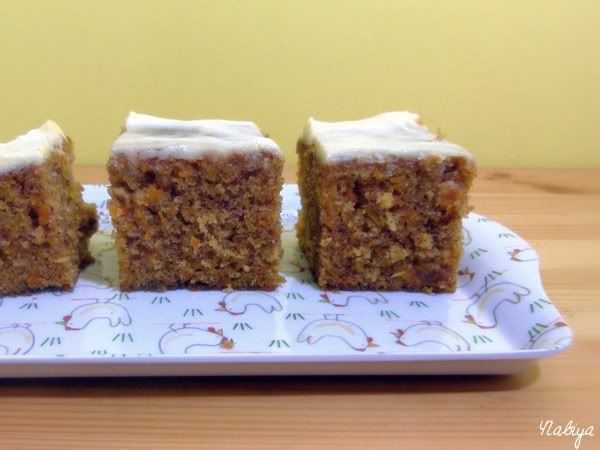 I've never been sure how carrot cake actually tastes, as I'm sure everyone realizes that the taste of these popular little "veggie cakes" is mostly in the cream cheese frosting. The main reason I gave this dessert a shot today was because I started wondering how plain carrot cake would taste.
Not very different from Zucchini bread, I would say... I used mostly the same spices, though carrots do have a more distinct flavour than zucchini. That taste is hardly noticeable in the cake. I admit I'm a little disappointed, as I sort of wanted a proper carrot-flavoured cake. Maybe less sugar next time, and probably no raisins so it's not too sweet.
Anyhoo, here's the recipe for anybody who wants to give this one a shot. It's still really, rather good with the cream cheese frosting, I'm just not too happy with how sweet it turned out. I adapted the recipe from smitten kitchen, though not by much, just added a couple of things.
Carrot Cake with Cream Cheese Frosting
2 cups all purpose flour
2 tsp baking soda
1 tsp salt
2 tsp ground cinnamon
1/2 tsp ground nutmeg
1 tsp ground ginger
2 cups sugar
1 1/4 canola oil
4 large eggs
3 cups grated peeled carrots
1/2 cup raisins (optional)
1/4 cup desiccated coconut (optional)
Preheat the oven to 180C, grease and line the 13 x 9 baking pan with butter and parchment paper
Sift the flour, baking soda, salt, cinnamon, nutmeg and ginger in a medium bowl and set aside
With an electric mixer, whisk the sugar and oil until well blended, then add the eggs one at a time, beating well after each addition
Stir in the flour mixture, beat until incorporated
Stir in the carrots, raisins and coconuts
Pour the batter into the prepared pan and pop into the oven for 40 minutes, or until a skewer stuck in at an angle comes out clean. Allow to cool in the pan for up to 5 minutes, then remove onto a cooling pan to cool completely
Cream Cheese frosting
4 oz butter, softened
4 oz cream cheese, softened
1 tsp vanilla extract
2 1/2 cup sifted confectioner's sugar
Beat the butter and cream cheese until light and fluffy, beat in the vanilla extract
Gradually beat in sugar, 1/2 a cup at a time until all is mixed well
Use a spatula to apply frosting on the carrot cake, then chill in the fridge before cutting out squares to serve
x Nabs